I hope you all are enjoying your spring break…and I am not saying that just to say it. I sincerely mean for you to enjoy it because when you become a "grown up" like myself, there is no such thing as spring break.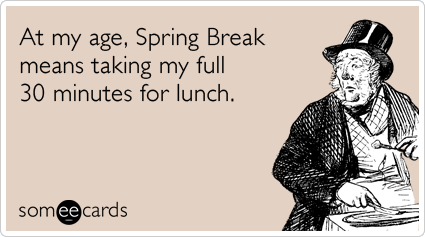 Yay for being a "grown up" right?!?
This is how I will be "celebrating" my spring break…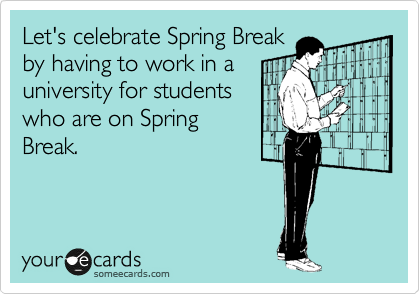 Anyways, instead of giving myself the week off from blogging, I remain resolute in bringing you credible nutrition information! Ok well, maybe I am just going to defer you to a blog post of one of my
colleagues
, but I still put some effort in the opening to this blog. Back to my colleague's blog post, I found it to be pretty legit and insightful. What is the topic you ask?!? Well in this blog post, she talks about how being healthy doesn't always mean being healthy (aka its ok to eat cake and pizza occasionally and in moderation without having to beat yourself up over it). It is pretty insightful; I mean we are human after also why beat yourself up if you have a little slip up and accidentally indulge in some pizza?!? Without further ado…
Being healthy doesn't ALWAYS mean being healthy by Fannetastic Food.
My advice, don't be afraid to treat yo self every now and then.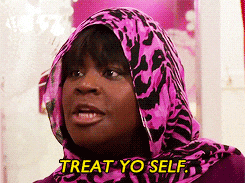 Until next time!
Keep it Fresh,
Keep it Green,
Beth